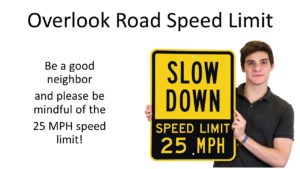 Overlook Road Speed Limit  Please be mindful of the 25 MPH speed limit on Overlook Road.   Be a good neighbor, we share the road with residents who are out and about during the times we are open.  We ask that you follow all traffic rules when coming and going to Temple.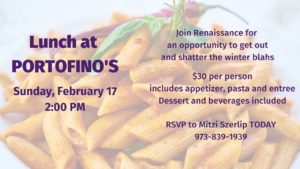 Lunch at PORTOFINO'S  All are welcome to the Renaissance Group's annual lunch!  Sunday, February 17 at 2:00 PM.  Join us as we lunch away the winter blahs!  $30 per person, RSVP to Mitzi Szerlip today at 973-839-1939.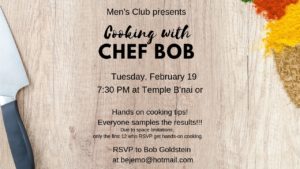 Cooking with Chef Bob  Join Men's Club for a second evening of hands-on cooking tips and samples with Bob Goldstein on Tuesday, February 19 at 7:30 PM.  RSVP to Bob Goldstein.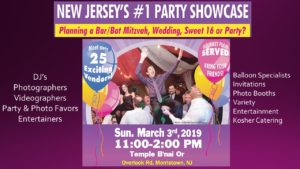 Bar/Bat Mitzvah #1 Party Showcase  Planning a Bar/Bat Mitzvah?  Join us on Sunday, March 3 at 11:00 AM at Temple for the #1 Party Showcase!  Meet over 25 exciting vendors -- gourmet food to be served!  Photographers ~ DJ's ~ Kosher Caterers ~ and lots more.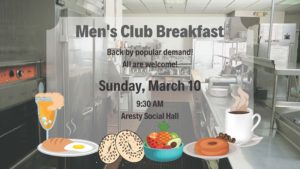 Men's Club Breakfast  Back by popular demand!  Men's Club will host a community-wide breakfast on Sunday, March 10 at 9:30 AM.  Plan to stop by and say hi!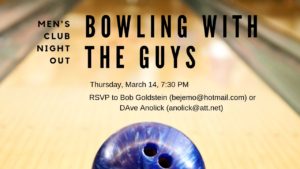 An Evening Out Bowling with the Guys  Join Men's Club for a night out for bowling and fun on Thursday, March 14 -- 7:30 PM -- at Hanover Lanes.  $20 per person, food can be purchased separately.  RSVP to DAve Anolick.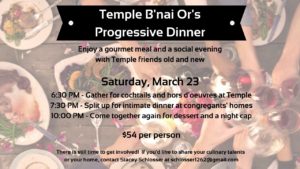 TBO Progressive Dinner  Join us for a favorite event, TBO's Progressive Dinner, back by popular demand on Saturdday, March 23 starting at 6:30 PM.  Ejnooy a gourmet meal and a social evening with temple friends, old and new.
Click here to RSVP!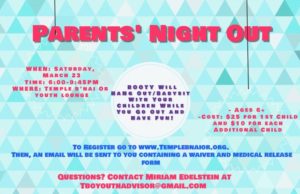 Parents' Night Out  Want a night out?  Want to attend the Progressive Dinner?  BOOTY teens will babysit/play with your children so you can enjoy the fun!  For more information and to register, click here!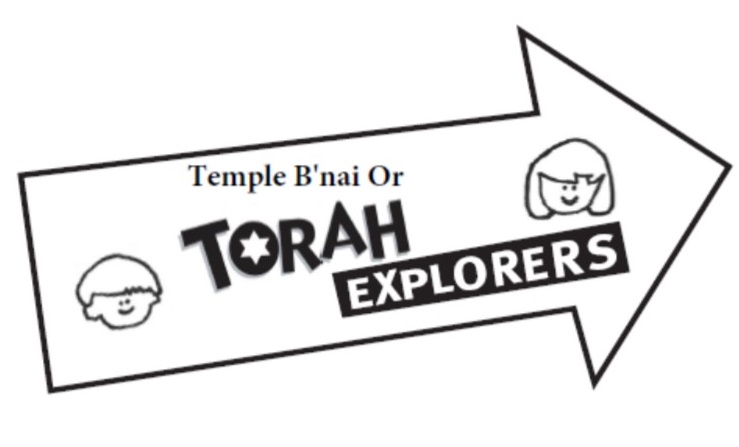 Tot Shabbat:  Not your average Tot Shabbat, join us the 2nd Friday of each month.  Tot Shabbat 2018-2019 schedule is now available!  Click here to view schedule.