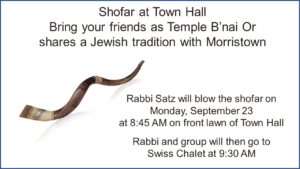 Shofar at Town Hall  Bring your friends as TBO shares a Jewish tradition with Morristown.  Rabbi Satz will blow the Shofar on the lawn of Town Hall on Tuesday, September 17 and Monday, September 23, at 8:45 AM.  Join Rabbi afterwards at Swiss Chalet for coffee and conversation.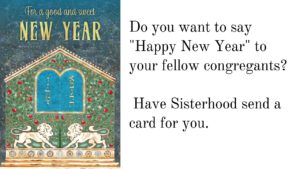 Sisterhood High Holy Day Cards 5780  Send warm New Year wishes to your friends at Temple for the High Holy days.  Click here to sign up today.  Deadline is September 22.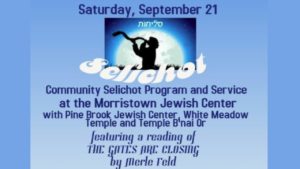 Selichot Join Rabbi Satz and Cantor Galit at the Morristown Jewish Center for a Community-wide Selichot program.  For more information or to RSVP click here.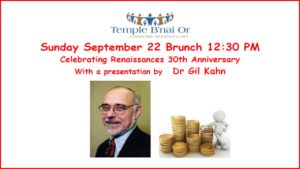 Renaissance Celebrates 30 Years with a Luncheon, Sunday, September 22, at 12:30 PM  Join Renaissance as they celebrate their 30th anniversary!  Congresswoman Mikie Sherrill has a special proclamation in their honor and Dr. Gil Kahn is returning to speak to us!  Renaissance members $15; Guests $20.  RSVP to Mitzi Szerlip at (973) 839-1939.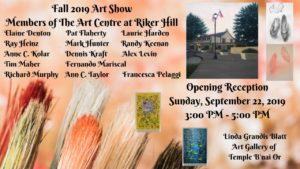 Art Gallery Opening, Sunday, September 22, at 3:00 PM  Join us as we welcome members of The Art Centre at Riker Hill.  They will be here to display their art for us during the next month.  We hope to see you there!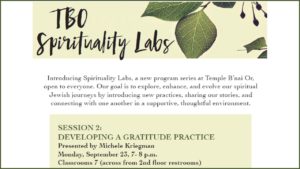 TBO Spirituality Labs, next session, Monday, September 23, at 7:00 PM  Join us for the next session of our new program, TBO Spirituality Labs.  The next installment is "Developing A Gratitude Practice."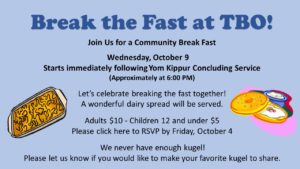 Congregational Break Fast Join us immediately following our Concluding Service on Yom Kippur, Wednesday, October 9, for our annual Break Fast.  Click here to sign up!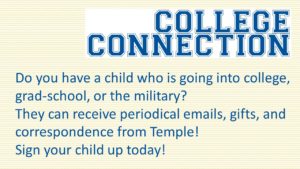 College Connection 2019  Do you have a child who is going to college?  Grad School?  Military?  Sign them up today for College Connections and they will recieve periodical gifts, weekly Chai-lights, and letters from Temple.  Click here to sign them up today!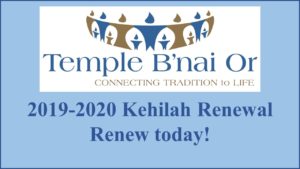 2019-2020 Kehilah Membership  Temple has a lot planned for the upcoming year and is excitied for everyone to be part of it!  Click here to renew today!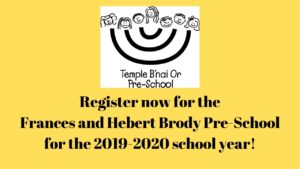 Pre-School Registration  There is still time to register for the Frances and Herb Brody Pre-School for 2019-2020.  Contact Jennie Rubin for more information.