Online Services
Below are links to keep you connected to Temple during this time.

Please note: Our Friday Shabbat Service will now begin at 6:00 PM, starting on July 3. ONEG will begin at 7:15 PM.

Since we have switched over to YouTube Live for our Friday night services, some of you have missed the social interaction we had with the chat function on Zoom and Facebook Live. We have good news... You can chat on YouTube Live also! All you need is a Google account. If you have one, log into YouTube using the same login info you use for your Google account and then you will be able to chat with the other congregants during services. If you don't have a Google account and need help creating one or if you are having any issues logging into the YouTube channel or into any Zoom meetings for TBO, you can contact Bonnie Rosenthal or David Fields for help. For additional instructions, please click here.

We want to make sure everyone has access to all of the online services Temple B'nai Or is offering. We want everyone to feel connected in these unprecedented times.

Friday Night Services, 7:15 PM:
To view on YouTube - Click here
Friday Night Oneg, 8:15 PM:
To join on Zoom, click here
Bagels and Torah, Saturdays, 9:00 AM:
To join on Zoom - click here
Support Group for These Strange Times with Therapist Gail Lalk and Rabbi Satz, Thursdays, 10:00 AM
To join on Zoom, click here
Hebrew with Cantor, Thursdays, 1:00 PM:
To join on Zoom, click here
Men's Schmooze:
Class is postponed until further notice.
2020-2021 Kehilah Membership
Especially now during these tumultuous times in our world, we hope you continue to experience the importance and value of being part of the Temple B'nai Or family. People choose to experience that commitment and connection in different ways. Some choose to make their closest friends here at our Temple. Others connect intellectually in Jewish education programs or through worshipping together or engaging in charitable community events. Our Temple community is there to support each other, to celebrate Simchas, and bring comfort when there is hardship or loss.

Our Temple is your Jewish home and your membership includes . . .
-- Life cycle events from baby naming to funerals officiated by your clergy at your temple or (virtually).
-- Worship experiences for all holidays throughout the Jewish calendar year.
-- Formal and informal education for preschoolers through adults.
-- Ongoing opportunities to engage with community in social action and social justice activities.
-- Weekly Shabbat services and Oneg, even virtually.
-- Access to your clergy for counseling and support during challenging times.
-- Opportunities to create lifelong friendships, for both children and adults.

To renew your kehilah membership today, please click here.

To fill out our volunteer pledge form, please click here.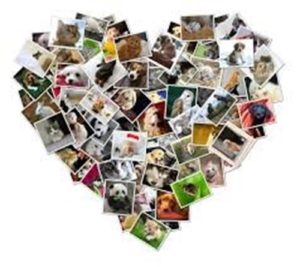 Before you head back out into the world and while you are still nestled in at home, please go on a treasure hunt.  We are looking for photos and videos to include in our future honoring of David and Jennie.  Plus we are working on a more general video for our use in marketing the Temple to new members.  So please dig through your old photos in boxes, on computers, phones, tablets, or wherever you store them.  We want everyone to be able to see themselves in the finished product.  Make sure you're in it by sending your materials to  halliebeyer@gmail.com.
We would love your help!
Charity of the Week
Please donate to TBO's effort to help our larger community by donating to this chosen pandemic relief charity of the week. No donation is too small. Thanks for your generosity!

Our very own Tanya Simon has been busy during the pandemic helping others. Please click here to read a blog that Tanya wrote that was featured on the Jewish Federation website.

Community Food Bank of New Jersey
Nearly one million New Jerseyans struggle with hunger every day meaning that they do not know where their next healthy meal will come from or if they will have something to eat at all. This number has increased dramatically during COVID-19 and now there are even more people in NJ needing food assistance. We can help!

The Community Food Bank of NJ (CFBNJ) is the state's largest anti-hunger and anti-poverty organization. Working together with volunteers, donors and their many partners, CFBNJ fills the emptiness caused by hunger with food, help and hope. CFBNJ distributes most of its food to more than 1000 NJ food pantries, soup kitchens and shelters throughout the state, ensuring that nutritious food is available to families throughout the state year round. During COVID-19, CFBNJ is closed to volunteers however, you can still make a difference by donating funds to their emergency relief efforts. Every dollar donated provides $8 worth of groceries for hungry New Jersey families! Hunger exists in every county in our state and we must do what we can for struggling men, women and children, so they have the food they need to live happy and healthy lives. Your financial support will allow CFBNJ to continue serving the people of NJ.

Please consider making a donation to Family Promise, helping our neighbors. Click here to make a donation.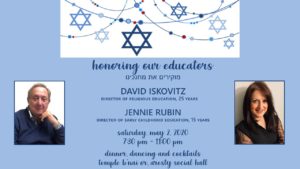 Honoring Our Educators  We will be honoring David Iskovitz and Jennie Rubin for their years of dedication to our youth of TBO.  To be a sponsor, or make a donation, click here.  To be part of the digital journal, click here.
Temple B'nai Or Covid-19 Update
The Temple B'nai Or building is closed until further notice.
But we are here for you.
If you need immediate assistance from the clergy, please call Temple at 973-539-4539,
then dial 8.

For non-emergencies:
Temple Office
To reach Joel D. Katz, click here.
To reach Kim Lefferts, click here.
Frances and Herbert Brody Pre-School
To reach Jennie Rubin, click here.
Joel and Helen Jacobs Religious School
To reach David Iskovitz, click here.

Click here for an important message from our President, Stacey Schlosser.