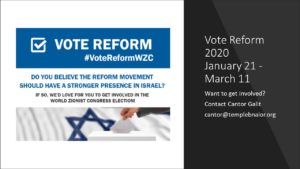 Vote Reform 2020  Elections begin on January 21, 2020 through March 11, 2020.  This is an important vote for a stronger Reform presence in Israel.  Anyone who is Jewish and over the age of 18 can vote! For more information, go to to the ARZA website.  To get involved, contact Cantor Galit.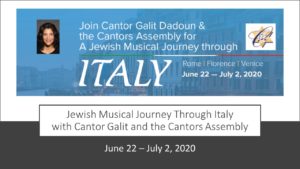 Jewish Musical Journey Through Italy  Join Cantor Galit and the Cantors Assembly as they tour Italy through music June 22 through July 2.  For more information or to sign up, click here.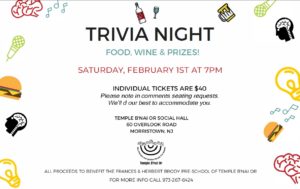 Trivia Night 2020, Saturday, February 1, 7:00 PM  It is that time of year again!  The Pre-School is hosting their annual Trivia Night.  Join us for this fun evening of trivia, raffles, and friendship!  Click here to RSVP.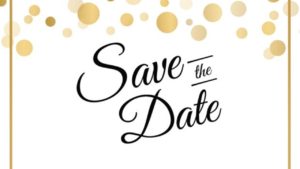 Temple-Wide Breakfast, Sunday, February 2, 9:00 AM  A joint Men's Club and Sisterhood breakfast is being planned.  All are invited.  Stay tuned for details!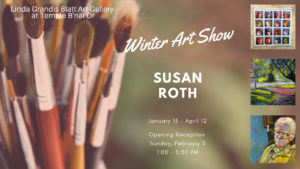 TBO Winter Art Show Opening Reception, Sunday, February 2, 1:00 PM  Join us as the Linda Grandis Blatt Art Gallery hosts the Winter Art Show Opening Reception and welcomes artist Susan Roth.  Susan will be here to showcase her artwork and meet with us.  The show is on display from January 13 through April 12.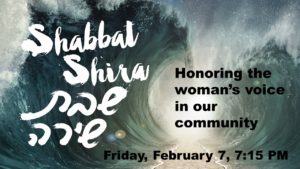 Shabbat Shira - Save the Date - Friday, February 7, 7:15 PM  Join us for this special Shabbat when we honor the woman's voice in our community.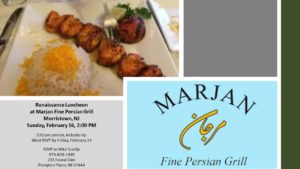 Renaissance Luncheon, Sunday, February 16, 2:00 PM  Renaissance is joining a new restaurant, and is inviting you!  Join them at Marjan Persian Grill in Morristown.  Starting with popular appetizers, a choice of entrees, followed by dessert; beverages included.  $30 per person, includes tips.  RSVP by February 14 to Mitzi Szerlip at 973-839-1939.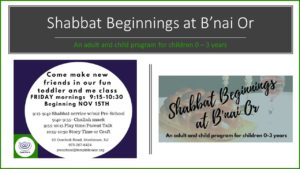 Shabbat Beginnings at B'nai Or  An adult and child program for children birth-3 years, Fridays at 9:15 AM.  Come make new friends in our fun toddler and me class.  For more information or to RSVP, click here.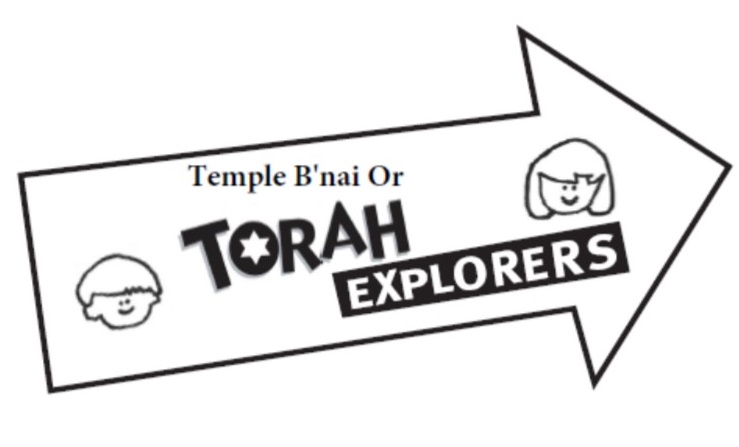 Tot Shabbat:  Not your average Tot Shabbat, join us the 1st Friday of each month.  Tot Shabbat 2019-2020 schedule is now available!  Click here to view schedule.