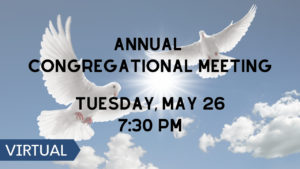 Annual Congregational Meeting, Tuesday, May 26, 7:30 PM  Please join us virtually for our annual meeting, click here to register.  The highlights of this meeting are voting in our new slate for the Board of Trustees and updating the congregation on our newly adopted budget.   Click here to view slate.  Click here to vote on slate, voting will close at midnight on Tuesday.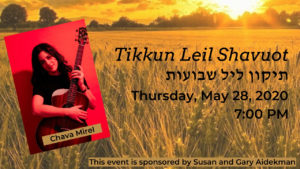 Shavuot, Thursday, May 28, 7:00 PM  Join our community wide Tikkun Leil Shavuot.  We are excited that despite all pandemic odds, we will gather as one community. We begin with a virtual concert with the inspiring Chava Mirel, at 7:00 PM, click here to register.  Study will follow through our national organizations.  Click here for URJ programs.  Click here for USCJ programs.
Online Services
Below are links to keep you connected to Temple during this time.
Click here to view a video with Stacey Schlosser on how to use FaceBook Live and Zoom.
Friday Night Services, 7:15 PM:
To view on YouTube - Click here
Friday Night Oneg, 8:15 PM:
To join on Zoom, click here
Bagels and Torah, Saturdays, 9:00 AM:
To join on Zoom - click here
Shavout Service with Yiskor Service, Friday, May 29, 10:00 AM
To view on YouTube, click here.
Sunday Mishpacha T'filah, Sunday, May 31, 10:00 AM
Join us for a lively 30-minute shacharit (morning) service lead by Rabbi and Cantor.  EVERYONE is welcome!
To view on Zoom, click here.
Passsword - Kehilah
Support Group for These Strange Times with Therapist with Gail Lalk and Rabbi Satz, Thursdays, 10:00 AM
To join on Zoom, click here
Hebrew with Cantor, Thursdays, 1:00 PM:
To join on Zoom, click here
Spirituality Labs, Monday, June 1, 7:00 PM:
The week's class will be on "Mindful Meditation and Spirituality"
Log in at 6:45 to kibbitz and get tech support.
To join on Zoom, click here.
Men's Schmooze:
Class is postponed until further notice.
Charity of the Week
Please donate to TBO's effort to help our larger community by donating to this chosen pandemic relief charity of the week. No donation is too small. Thanks for your generosity!
Nourish.NJ (formerly known as the Community Soup Kitchen)
Making sure our neighbors have food and resources is the mission and commitment of nourish.NJ, formerly known as the Community Soup Kitchen. TBO has a long history with nourish.NJ. TBO was a founding congregation 36 years ago when nourish.NJ was started as the Community Soup Kitchen. For many years, TBO volunteers cooked at home, helped in the kitchen and served lunch. Since then, and continuing monthly until this pandemic, TBO volunteers have staffed and served lunches, frequently to more than 250 people at a time. Currently, as a result of COVID-19, nourish.NJ has suspended sit-down meals and free farmer's markets and is offering bagged lunches, free to pick up for anyone who needs it. Lunches, as well as canned goods and other non-perishables, are distributed at various host churches throughout Morristown. nourish.NJ is currently unable to accept donations of food or other goods due to safety guidelines set by Governor Phil Murphy. nourish.NJ is grateful for the continued support of TBO during these difficult times.
Please consider making a donation to Interfaitoh Food Pantry, helping our neighbors. Click here to make a donation.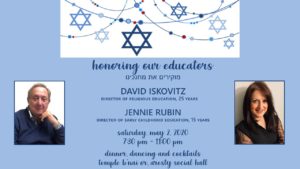 Honoring Our Educators  We will be honoring David Iskovitz and Jennie Rubin for their years of dedication to our youth of TBO.  To be a sponsor, or make a donation, click here.  To be part of the digital journal, click here.
Temple B'nai Or Covid-19 Update
The Temple B'nai Or building is closed until further notice.
But we are here for you.
If you need immediate assistance from the clergy, please call Temple at 973-539-4539,
then dial 8.

For non-emergencies:
Temple Office
To reach Joel D. Katz, click here.
To reach Kim Lefferts, click here.
Frances and Herbert Brody Pre-School
To reach Jennie Rubin, click here.
Joel and Helen Jacobs Religious School
To reach David Iskovitz, click here.

Click here for an important message from our President, Stacey Schlosser.