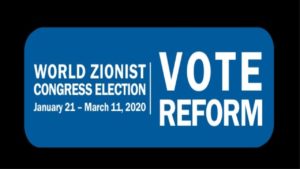 Vote Reform 2020  Elections begin on January 21, 2020 through March 11, 2020.  This is an important vote for a stronger Reform presence in Israel.  Anyone who is Jewish and over the age of 18 can vote! Click here to vote today!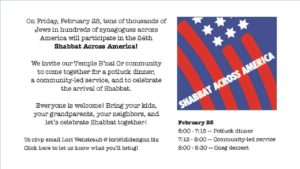 Shabbat Across America, Friday, February 28   We will participate with tens of thousands of Jews across America.  All are invited to a pot-luck dinner at 6:00 PM, followed by our 7:15 PM Community-led Service.  RSVP to Lori Weintraub.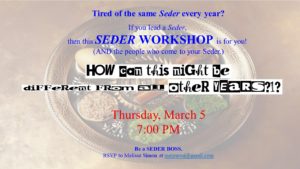 Seder Workshop, Thursday, March 5, 7:00 PM  Tired of the same old Seder?  If you lead a Seder, this workshop is for you!  Learn to be a Seder Boss.  Bring your Haggadah and let's share ideas.   Bring your own dinner and we will swap ideas of leading your next Seder.  Click here for more information.  RSVP to Melissa Simon.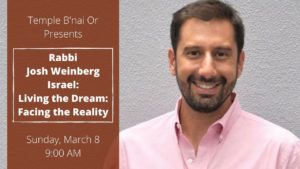 Israel: Living the Dream, Facing the Reality, Sunday, March 8, 9:00 AM  Rabbi Josh Weinberg will be here to speak to us.  More information to follow.  Plan to spend your morning with us and Rabbi Weinberg!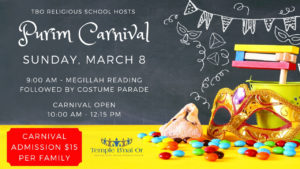 Purim Carnival, Sunday, March 8  The TBO Religious School is hosting their annual Purim Carnival!  Megillah Reading starts at 9:00 AM, followed by the costume parade.  The carnival opens at 10:00 AM.  Join us for games, fun, and food!  Admission is $15 per family.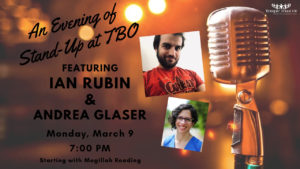 Purim 2020, Monday, March 9, 7:00 PM  Join us as we celebrate Purim!  We start the evening with our Megillah Reading.  We will then be entertained with "An Evening of Stand-Up at TBO" with comedians Ian Rubin and Andrea Glaser.  Do not miss this great event!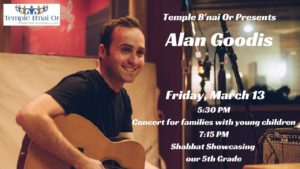 Alan Goodis, Friday, March 13  Alan Goodis will be here for a concert for families with young children at 5:30 PM, followed by Shabbat Services at 7:15 PM.  Alan will be joined by our 5th Graders for the 5th Grade Shabbat.  Join us for this musical evening!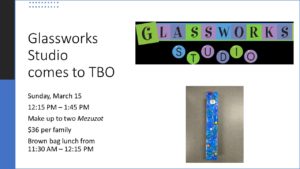 Glassworks Studio Comes to TBO, Sunday, March 15, 12:15 PM  Join us following Religious School for a Mezzuzah Making afternoon!  Come at 11:30 AM with a brown bag lunch before to hang before project time.  Cost is $36 per family.  Click here to RSVP.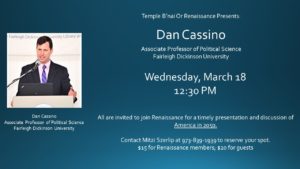 Renaissance Lunch, Wednesday, March 18, 12:30 PM  Renaissance welcomes back Dan Cassino, Associate Professor of Political Science at Fairleigh Dickinson University.  This year, Dan's topic with be "America in 2050".  Renaissance members, $15; non-members, $20.  RSVP to Mitzi Szerlip, 973-839-1939.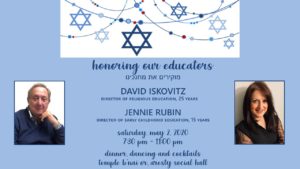 Honoring Our Educators, Saturday, May 2, 7:30 PM  We will be honoring David Iskovitz and Jennie Rubin for their years of dedication to our youth of TBO.  Join us for this evening of dinner, dancing, and cocktails.  To RSVP, be a sponsor, or make a donation, click here.  To be part of the digital journal, click here.