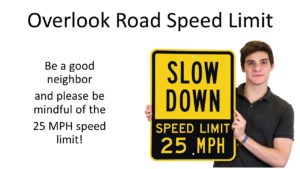 Overlook Road Speed Limit  Please be mindful of the 25 MPH speed limit on Overlook Road.   Be a good neighbor, we share the road with residents who are out and about during the times we are open.  We ask that you follow all traffic rules when coming and going to Temple.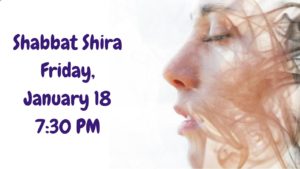 Shabbat Shira Join us Friday, January 18, at 7:30 PM for this special program that highlights the woman voice in our community.  This program is open to the public and is a free event.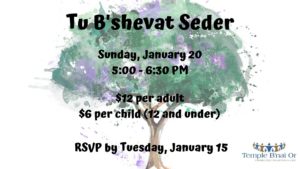 Tu B'Shevat Seder Join us Sunday, January 20 at 5:00 PM for our Tu B'Shevat Seder.  We invite you all to celebrate with us and enjoy a wonderful meal.  Click here to RSVP.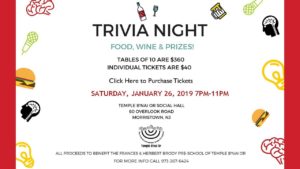 Trivia Night is Back!  Join us for Trivia Night on Saturday, January 26.  All proceeds benefit the Pre-School Fund.  Click here to purchase tickets today!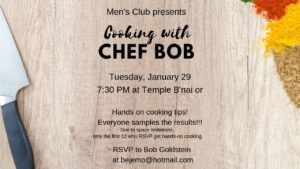 Cooking with Chef Bob Men's Club is proud to present Chef Bob on Tuesday, January 29 at 7:30 PM.  Chef Bob will be giving hand-on cooking tips and all will be able to sample the results!  Click here for more information.  RSVP to Bob Goldstein.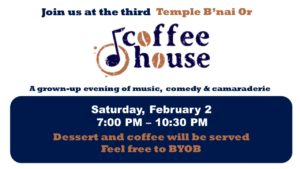 Coffee House  Join us on Saturday, February 2, from 7:00-10:30 PM for our 3rd Annual Coffee House.  The grown-up evening of music, comedy, and comaraderie is sure to be a wonderful evening!  Click here to purchase your tickets today before they sell out!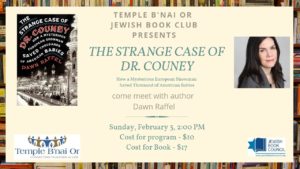 Jewish Book Club Presents Dawn Raffel  Join us on Sunday, February 3 at 2:00 PM
as Dawn Raffel talks to us about her book The Strange Case of Dr. Couney. For more information, click here.  To RSVP, click here.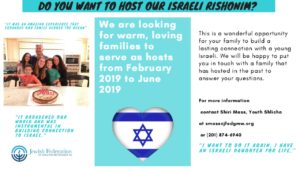 Host a Rishonim:  Would you like to host a student who is here from Israel February 2019 - June 2019?  Click here for more information.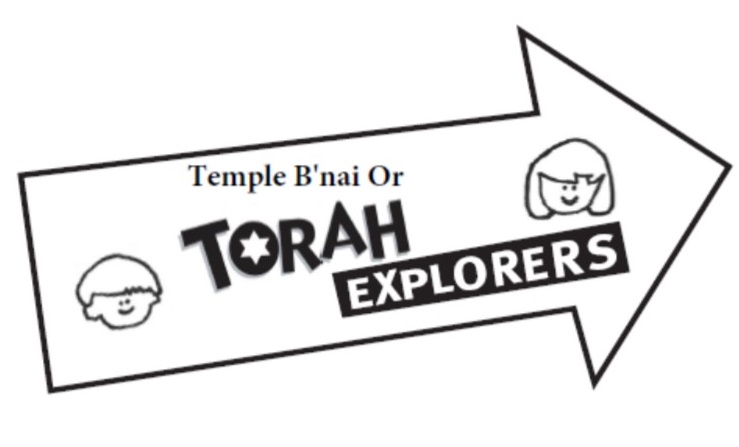 Tot Shabbat:  Not your average Tot Shabbat, join us the 2nd Friday of each month.  Tot Shabbat 2018-2019 schedule is now available!  Click here to view schedule.