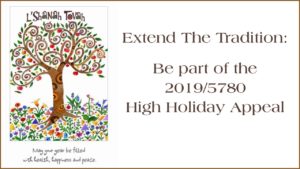 2019/5780 High Holy Day Appeal  Extend the tradition with our annual High Holiday Appeal.  Click here to give today.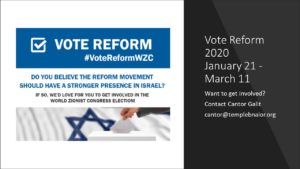 Vote Reform 2020  Elections begin on January 21, 2020 through March 11, 2020.  This is an important vote for a stronger Reform presence in Israel.  Anyone who is Jewish and over the age of 18 can vote! For more information, go to to the ARZA website.  To get involved, contact Cantor Galit.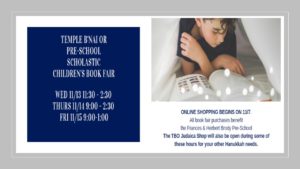 Annual Book Fair, Wednesday, November 13 - Friday, November 15  Join us for this annual event!  Start your Hanukkah shopping now.  Judaica Shop also be here for your shopping pleasure.  All proceeds benefit the Frances and Herbert Brody Pre-School.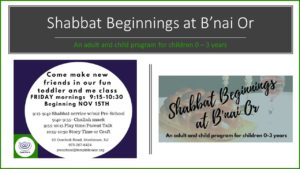 Shabbat Beginnings at B'nai Or  An adult and child program for children birth-3 years, starting Friday, November 15, at 9:15 AM.  Come make new friends in our fun toddler and me class.  For more information or to RSVP, click here.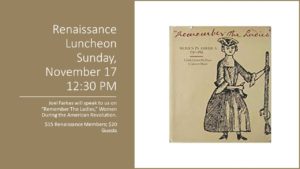 Renaissance Luncheon, Sunday, November 17, 12:30 PM  Join Renaissance as they welcome Joel Farkas, who will speak on "Remember the Ladies," Women During the American Revolution.  Learn what a woman's place in society was at that time.  Cost is $15 for Renaissance members, $20 for guests.  RVSP to Mitzi Szerlip at 973-839-1939.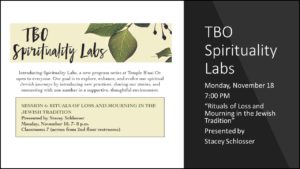 TBO Spirituality Labs, Monday, November 18, 7:00 PM  Join us for "Rituals of Loss and Mourning in the Jewish Tradition," presented by Stacey Schlosser.  Click here to RSVP.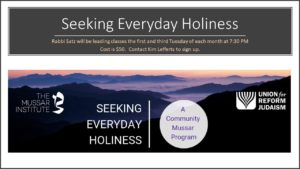 Seeking Everyday Holiness  Join this new class, led by Rabbi Satz, on Tuesday evening, beginning, November 18, at 7:30 PM.  $50 per person.  Click here for more information or to sign up.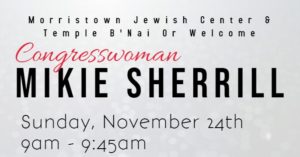 TBO and Morristown Jewish Center present Congresswoman Mikie Sherrill, Sunday, November 24, 9:00 AM  This event is open to all TBO and MJCBY members only.  Please arrive early.  Doors open at 8:30 AM.  Program begins promptly at 9:00 AM and concludes at 9:45 AM.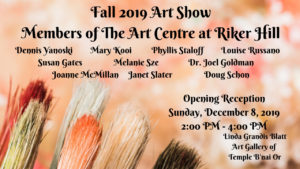 Linda Grandis Blatt Art Gallery Opening Reception, Sunday, December 8, 2:00 PM  Join us as members of The Art Centre at Riker Hill display their art.  Meet the artists and enjoy light refreshments.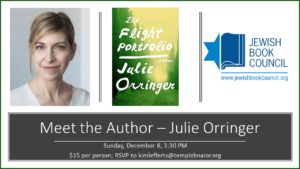 Meet the Author, Sunday, December 8, 3:30 PM  Julie Orringer will be here to discuss her latest book, "The Flight Portfolio".  Cost of program is $15; books can be purchased.  Wine and cheese reception at 3:30 PM, followed by the discussion at 4:00 PM.  Click here to RSVP.