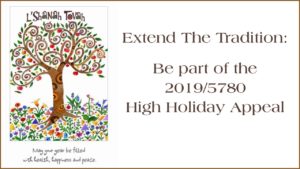 2019/5780 High Holy Day Appeal  Extend the tradition with our annual High Holiday Appeal.  Click here to give today.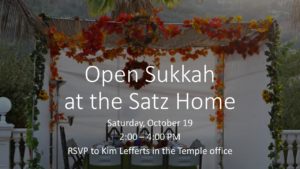 Open Sukkah at Rabbi Satz's Home  Rabbi and his family are opening their sukkah on Saturday, October 19, from 2:00 - 4:00 PM.  Stop by and celebrate under the sukkah with the Satz's.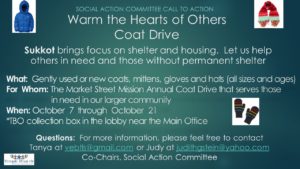 Social Action Annual Coat Drive  Help those in need by donating gently used or new coats, hat, scarves, gloves of all sizes to our Annual Coat Drive, October 7 - October 21.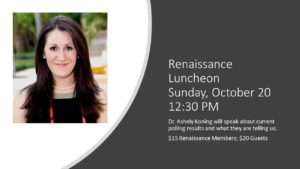 Renaissance Luncheon Join us as Renaissance welcomes back Dr. Ashley Koning.  She will speak to us about the current polling results and what they are saying.  $15 Renaissance members; $20 Guests.  RSVP to Mitzi Szerlip at (973) 839-1939.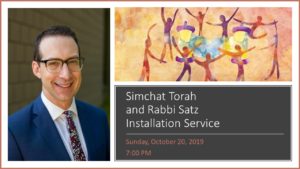 Simchat Torah and Installation Services  Join us on Sunday, October 20, at 7:00 PM as we dance, celebrate, and unfurl the Torah.  The service will also include the installation of Rabbi Michael Satz.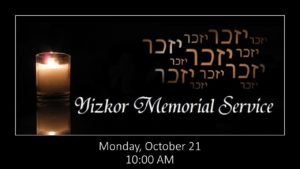 Yizkor Services  Join us to conclude the festival of Sukkot and hold our service of remembrance on Monday, October 21, at 10:00 AM.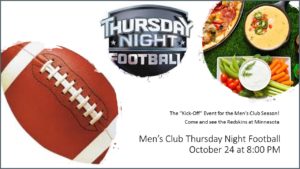 Thursday Night Football  Men's Club is having their "Kick-Off" event on Thursday, October 24, at 8:00 PM here at TBO.  Come watch the Redskins take on Minnesota.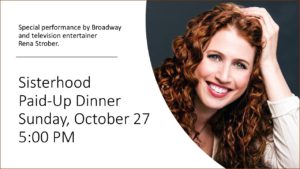 Sisterhood Paid-Up Dinner  Entertainer Rena Strober will delight us with a special performance at this annual dinner and celebration on Sunday, October 27, at 5:00 PM.  Click here to RSVP.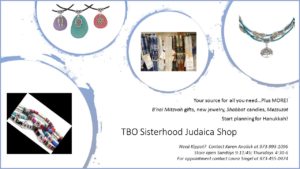 WRJ/Sisterhood Judaica Shop  While you are attending the Sisterhood Paid-Up Dinner, our Judaica Shop Staff will be in attendance and you will be able to shop!  Start your Hanukkah shopping or get something for yourself!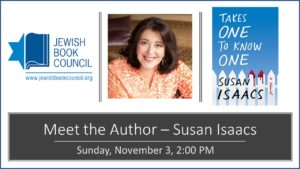 Meet the Author  Susan Isaacs will be here to discuss her newest book, "Takes One To Know One" on Sunday, November 3, at 2:00 PM.  $15 per person; $20 for book.  Click here to RSVP.