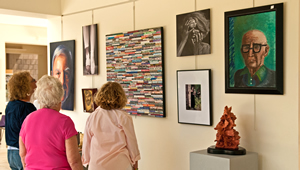 The Linda Grandis Blatt Gallery was made possible in 2009 by a grant from Bill Blatt in memory of his beloved wife, Linda. The naming ceremony took place on June 12, 2009. In his remarks, Rabbi Donald Rossoff said "…Within these walls, may we and generations to come be welcomed and embraced by the warmth of Linda's beautiful spirit. Reflective of Linda's life, her work, and her love of art and artists, may this gallery serve the Temple, the Jewish Community and the community at large as a place where art in its various forms can touch the soul."
Bill Blatt stated the goals of the gallery are:
 To create a Jewish portal, which serves as the transition from the outside non-Jewish/secular world into the sacred space of the Temple;
To provide a space for our Temple members to display their artistic creations;
To deepen, enrich, and beautify our congregants' Jewish lives through exposure to Jewish art;
To promote the creation of Jewish art within our congregation and beyond;
To strengthen the ties between our congregation and the people and culture of Israel through the display of Israeli art;
 To beautify our Temple building;
To be a source of income for the Temple whenever possible and appropriate.
At the direction of the Board of Trustees, a gallery committee was formed in the fall of 2009. The committee has curated many highly successful art shows since that time, including annual Fall, Winter, and Spring shows, as well as special exhibits by individual artists and community groups. The Fall Show, which runs during the High Holidays, is traditionally reserved to showcase work by Temple members and their immediate families. The Gallery Committee determines the nature and length of each show and seeks to maintain a high aesthetic standard encompassing many media including paintings in oil, watercolor, acrylic, pastels, charcoal drawings, pen and ink drawings, collage, photography, sculpture, and mixed media.
THERE'S ALWAYS SOMETHING WONDERFUL TO SEE IN OUR LINDA GRANDIS BLATT GALLERY
Now through June 17, 2017:   "Perspectives, a Photographic Journey".  Wolfgang Wittling & Eduard Moldoveanu take us on a visual journey from land and sea to the monoliths of the big cities.  Please join us for the Opening Reception on Sunday afternoon, April 23, 2017 from 2:30 pm to 4:30 pm.