Renaissance
Members of the Renaissance Group are active adults who take pleasure in coming together at least once a month to enjoy timely speakers, music, trips, films, dine-a-rounds, camaraderie, and simply celebrating life. The Group has been on going continuously since it's founding in 1989.  Membership is open to both Temple B'nai Or members and the community at large.  All events are open to the community.  Please join us.
2017 is shaping up to be a great year for Renaissance, and we plan to continue the fun throughout the fall:
Monday, November 13 – Bob Max, a 94 year old veteran, is the last living American solider to have escaped and survived Nazi slave labor in World War II.  He is a great speaker and ahs a fascinating story to tell.  Presented at Fairleigh Dickinson, 3:30pm at Lenfell Hall in Hennessey Hall (The Mansion), 285 Madison Avenue, Madision, NJ 07940.
Sunday, November 19 – Brunch at TBO at 1:00PM, followed by the author Eddy Portnoy discussing his new book, Bad Rabbi at 2:15PM in the sanctuary.  Co-sponsored with the LifeLong Learning Committee.
Sunday, December 10 – Join us as we listen to that most well known, born in Morristown, performer, The Bischop of Jazz, Rio Clemente.  He will join us to present an exciting hour and a half concert filled with wonderful music.  You have seen him at many clubs and venues locally as well as those in the Big City, AKA NYC.  The show starts at 2:00pm.  This delightful concert will be followed by a desert reception.
Monday, January 1 – Join us as we once again go to Hunan Chinese Restaurant for our Traditional New Years Day Festival meal.  After a great meal last year and meeting many friends from Temple that were also there, we return to Huan, at 255 Speedwell Avenue, Morris Plains, NJ 07950.  Due to owner being away, pricing will be sent out via email communications.
Wednesday, January 17 – Join us at noon as we view the film ARRANGED which centers on the friendship between an Orthodox Jewish woman and a Muslim woman who meet as first-year teachers at a public school in Brooklyn.  Over the course of the eyar they learn they share much in common – not least of which is that they are both going through the process of arranged marriages.  Run time for the movie is 90 minutes.
SAVE THE DATE:  Saturday, May 19, 2018 – Tikkun Leil Shavuot – Cantor Galit would like us to put this in our calendars to save the date.  We will engage in the age old tradition of all night study (not really all night) and a wonderful musical concert.
All events are open to the entire Temple community, as well as to guests
Fees: $15 for Renaissance members, $20 for guests.
For reservations, contact Mitzi Szerlip at 215 Forest Glen, Pompton Plains, NJ 07444 or 973-839-1939
For Renaissance questions, please call Stuart Rayvid (973-515-3518) or Carol Marin (973-366-9316)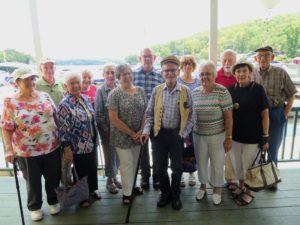 Enjoying a beautiful Fourth of July at Lake Hopatcong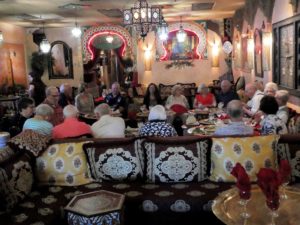 Celebrating the coming of August by "traveling" to Morocco via Parsippany at Marakesh