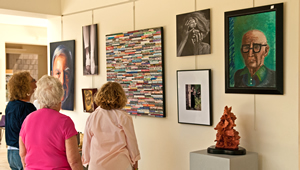 The Linda Grandis Blatt Gallery was made possible in 2009 by a grant from Bill Blatt in memory of his beloved wife, Linda. The naming ceremony took place on June 12, 2009. In his remarks, Rabbi Donald Rossoff said "…Within these walls, may we and generations to come be welcomed and embraced by the warmth of Linda's beautiful spirit. Reflective of Linda's life, her work, and her love of art and artists, may this gallery serve the Temple, the Jewish Community and the community at large as a place where art in its various forms can touch the soul."
Bill Blatt stated the goals of the gallery are:
 To create a Jewish portal, which serves as the transition from the outside non-Jewish/secular world into the sacred space of the Temple;
To provide a space for our Temple members to display their artistic creations;
To deepen, enrich, and beautify our congregants' Jewish lives through exposure to Jewish art;
To promote the creation of Jewish art within our congregation and beyond;
To strengthen the ties between our congregation and the people and culture of Israel through the display of Israeli art;
 To beautify our Temple building;
To be a source of income for the Temple whenever possible and appropriate.
At the direction of the Board of Trustees, a gallery committee was formed in the fall of 2009. The committee has curated many highly successful art shows since that time, including annual Fall, Winter, and Spring shows, as well as special exhibits by individual artists and community groups. The Fall Show, which runs during the High Holidays, is traditionally reserved to showcase work by Temple members and their immediate families. The Gallery Committee determines the nature and length of each show and seeks to maintain a high aesthetic standard encompassing many media including paintings in oil, watercolor, acrylic, pastels, charcoal drawings, pen and ink drawings, collage, photography, sculpture, and mixed media.
THERE'S ALWAYS SOMETHING WONDERFUL TO SEE IN OUR LINDA GRANDIS BLATT GALLERY
Winter Art Show 2018 – Featuring Francesca Pelaggi and Michael Shacham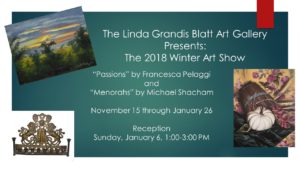 About the Show
Please join us for a reception celebrating a dual exhibition of recent works by Francesca Pelaggi and Michael Shacham on Sunday, January 6 at 1:00 PM in the Linda Grandis Blatt Art Gallery at Temple B'nai Or.  Refreshments will be served.  A portion of the purchase price of all works sold benefits the Temple.
Francesca Pelaggi's "Passions" reflects realism as she sees it, in acrylic paints and pastels.  Her goal is to relay her vision, passion, and emotional connection to the subject matter through carefully planned compostional elements, accurate depiction of form and purposeful rendering for the observer to understand the intent of each work and to connect with it.  "It is important to me that my work gives the viewer a sense of warmth and refletion.  Be it landscape, still ife, figurative, or portrait, all have enticing elements which I will continue to explore."  She works from life as much as unique textural quality brought forth through a technical approach of drawing accuracy and the delicate balance of light and shadows.
Ms. Pelaggi employs the chiaroscuro technique of old European masters for underpainting in acrylics and adds vibrant colors tobring them to life.  Her pastels incorporate loose application of the medium with some refinement in places and vivid colors from impressionistic influence.
Michael Shacham's "Menorahs" demonstrates the beauty with which Jewish families can create a sacred space in their homes and with which synagogues can enhance thier sacred space during the joyous holiday of Chanukah.  Mr. Shacham, an experienced sculptor, has rendered these works of art in bronze, celebrating the permanence of these vehichles of spirituality.
Mr. Shacham has been using traditional designs as a starting point in creating these Menorahs, then talking them to a new place artistically.  He has, for example, ecreatd more realistic sculpted lions and used th eternal flame as motifs.  Incleded is a menorah of historical significance – it is over 100 years old.
For more information on Fracesca Pelaggi, please visit www.francescapelaggi.com
For more information on Michael Shacham, please visit shachambronze.us