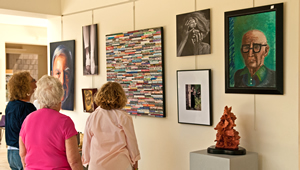 The Linda Grandis Blatt Gallery was made possible in 2009 by a grant from Bill Blatt in memory of his beloved wife, Linda. The naming ceremony took place on June 12, 2009. In his remarks, Rabbi Donald Rossoff said "…Within these walls, may we and generations to come be welcomed and embraced by the warmth of Linda's beautiful spirit. Reflective of Linda's life, her work, and her love of art and artists, may this gallery serve the Temple, the Jewish Community and the community at large as a place where art in its various forms can touch the soul."
Bill Blatt stated the goals of the gallery are:
 To create a Jewish portal, which serves as the transition from the outside non-Jewish/secular world into the sacred space of the Temple;
To provide a space for our Temple members to display their artistic creations;
To deepen, enrich, and beautify our congregants' Jewish lives through exposure to Jewish art;
To promote the creation of Jewish art within our congregation and beyond;
To strengthen the ties between our congregation and the people and culture of Israel through the display of Israeli art;
 To beautify our Temple building;
To be a source of income for the Temple whenever possible and appropriate.
At the direction of the Board of Trustees, a gallery committee was formed in the fall of 2009. The committee has curated many highly successful art shows since that time, including annual Fall, Winter, and Spring shows, as well as special exhibits by individual artists and community groups. The Fall Show, which runs during the High Holidays, is traditionally reserved to showcase work by Temple members and their immediate families. The Gallery Committee determines the nature and length of each show and seeks to maintain a high aesthetic standard encompassing many media including paintings in oil, watercolor, acrylic, pastels, charcoal drawings, pen and ink drawings, collage, photography, sculpture, and mixed media.
THERE'S ALWAYS SOMETHING WONDERFUL TO SEE IN OUR LINDA GRANDIS BLATT GALLERY
Summer Art Show 2018 – Featuring Oscar Beck and Carol Johnson

Oscar Beck
Oscar Beck deoesn't need the unpredicatble varible of canvas, bruch, and paint to express himself. He does very well with the humble graphite pencil. He remarkably rendered realistic drawings are meticulously worked creating nuance and subtlety.
Carol Johnson
Carol Johnson has studied the art of landscape oil painting at various times over the past 35 years. She started painting while earning a B.A. in Music Education at Douglass College and is currently studying with Eleanor Morehouse of Somerset. Her work has also been influenced by classes taken in Italy using egg tempera and watercolor with Fred Wessel and Jeremiah Paterson of the Hartford Art School.
Carol creates her landscapes and seasapes from photgraphs she has taken in her travels throughout the United States, Europe and the Caribbean. Other specialties include the painting of local brids and teh houses and pets of her friends and family.
As a member of the Morris County Art Association she exhibits her work in their shows as well as having had her own exhibits in Bridgwater Library, Mendham Borough Library, Bernardsville Library and at the Atlantic Rehabilitation Hospital in Norristown. She also participated in juried shows in Tewksbury and Bernardsville.