Temple President, Michele Murray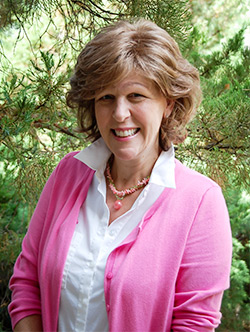 Michele Murray has been a member of Temple B'nai Or for 12 years with her husband, Greg, and her two children, David and Rebecca. Her children have attended The Joel & Helen Jacobs religious school at Temple B'nai Or through high school, celebrated both of their B'nai Mitzvahs, and Rebecca works as a Madricha currently.
Michele is both a past president and treasurer of Sisterhood, and was a member of the Board of Trustees in that capacity from 2005-2007. Having rejoined the Board in 2014, she has been Membership Chair as well as Vice President of Community.  She has chaired many committees and task forces for Temple through the years.
Michele was previously a Vice President with Bankers Trust Company and works or has worked as a volunteer for the Temple Caring Community, the Community Soup Kitchen, Morris Country Parks Commission, ran the uniform program for Morris National Little League Softball, and served on the Board of, and chaired multiple committees for, various Morristown Home and School Associations. She has a bachelor's of arts degree in economics from Tufts University.
2018-2019 Board of Trustees and Officers
President
Michele Murray
Executive Vice President
Stacey Schlosser
Vice President-Community
Mark Goldberg
Vice President-Administration & Outreach
Matt Marin
Vice President-Education & Worship
Mary Fernandez
Vice President-Finance
Rob Auslander
Recording Secretary
David Fields
Financial Secretary
Dan Barkin
Trustees
Eric Axler
Brian Dicker
Mark Furman
Josh Gellert
Todd Gutkin
Melissa Kasmin
Amy Noble
Rachel Platt
Dan Rudd
Melissa Simon
Tanya Simon
Meg Sosnow
Immediate Past President
Keith Barbarosh
Men's Club Co-Presidents
DAve Anolick
Bob Goldstein
Sisterhood Co-Presidents
Hallie Beyer
Abby Wellington
Senior Youth Group President
Julie Lilienfeld
Past Presidents of Temple B'nai Or
Lester Adelson 1954 – 1957
Samuel A. Hollander* 1957 – 1959
Seymour Lewis* 1959 – 1961
Dr. Leonard Szerlip* 1961 – 1963
Eliot Steinberg* 1963 – 1965
Sam Gordon* 1965 – 1967
Dr. Stanley Tannenbaum 1967 – 1969
Michael Israel 1969 – 1971
Armand Kaplan 1971 – 1973
Mitzi Szerlip 1973 – 1975
Alfred Schneier 1975 – 1977
Richard Hess* 1977 – 1979
Judith Helderman 1979 – 1981
Dr. Ronald S. Levy* 1981 – 1983
Dr. Anthony G. Lubowe 1983 – 1985
Davida Ginsburg 1985 – 1988
B. Marc Allen 1988 – 1991
Irv Gozonsky 1991 – 1993
Vicki Nelson 1993 – 1995
Jack Piermont 1995 – 1997
Phyllis Feinblum 1997 – 1999
Linda Haan 1999 – 2001
Stuart Rayvid 2001 – 2003
Mindy R. Zaziski 2003 – 2006
Herb Sorkin 2006 – 2009
Stuart Rayvid 2009 – 2010
Philip J. Cohen 2010 – 2012
Susan Levinson-Agrusti 2012 – 2014
Keith Barbarosh 2014 – 2016
*  In Memoriam