SISTERHOOD (sis'ter-hood) n
1. the state of being a sister
2. a community or society of sisters
3. the association or unification of women based on sharing a common cause.
Sisterhood means different things to different people. Here at Temple B'nai Or, we think of Sisterhood as a group of women who get together to make a difference in our Temple, our community, and in our own lives. We get to know one another and have fun in the process.
We hope you will join us this year – attend an event or a party, volunteer to help behind the scenes, join us in the kitchen, take part in our Women's Seder, or just shop at the gift shop.
Define your own role in this group of incredible women, help support our Temple community and share our pride in each other as Jewish women.
Sisterhood Executive Board:
| | |
| --- | --- |
| Co-Presidents | Hallie Beyer, Abby Wellington |
| VP Caring Community | Susan Aidekman |
| VP Communications | Maggie Goldberg |
| VP Finance | Jamie Frick |
| Book Club Chair | Nancy Ellis |
| Judaica Shop | Alise Ford |
Sisterhood e-mail address is sisterhoodtemplebnaior@gmail.com
Announcements
Eat, Pray, and Dance with TBO Sisterhood at their annual Women's Seder on Sunday, April 7, at 5:00 PM.  $35 for Temple members,; $54 for guests.   Open to all women age 13 and older.
Bring a Kosher for Passover nut-free appetizer, beverage, or nut-free dessert  Click here to tell us what you are bringing!
RSVP by April 1. Click here to register!
Our BOOK CLUB meets the second Wednesday of each month.  For more information about the meeting place and book, contact Nancy Ellis at
nancyhe@aol.com
.
The next Book Club is Thursday, May 16, at 7:00 PM. More information is below: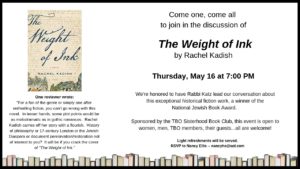 We are honored to have Rabbi Katz lead our conversation about The Weight of Ink by Rachel Kadish, a historical fiction work and a winner of the National Jewish Book Award.
More Sisterhood meaningful programs are still to be determined.
Please feel free to contact anyone on the Board via phone or Sisterhood e-mail with any questions or to volunteer.
JUDAICA SHOP
You may not know that the Temple's Judaica Shop is the largest fundraiser for Sisterhood.  So come by and perform a mitzvah while at the same time  doing all your Judaica shopping with us.  All proceeds go directly to our Temple.
We are your one-stop shop for all your home, holiday, and gift giving needs.  Come see our gorgeous selection of tallitot, kippot, ketubahs, candlestick holders, challah boards and covers, tzedakah boxes, mezuzot, holiday specific items, jewelry, etc.
There is always a great monthly special (check the monthly bulletin and flyers in the lobby for specifics, PLUS there is also a 30% off RED DOT sale on select merchandise, and great clearance items at 75% off.
The shop is always open to you during the week – just see our wonderful office staff.  Shop hours are:  Sunday from 9 a.m. to 11:30 a.m., and on Thursday from 4:30 p.m. to 6 p.m.  So please pay us a visit soon, you'll be glad you did.
For more information, or for an appointment, please contact Laura Siegel at 973.455.0474 or e-mail Laura at siegelsnj@verizon.net.