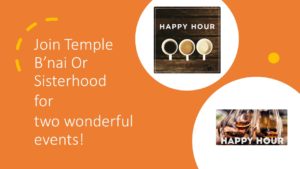 Sisterhood Summer Events
Calling all women! Please join sisterhood for some very casual, safe, social distanced gatherings. This summer we will have two opportunities for sisterhood to get together. Both gatherings will be in the temple parking lot. Please note-the building will not be open. This is a socially distanced outdoor gathering. Masks recommended.
BYOW Happy Hour on Thursday, July 30, from 8:00-9:00 PM.
BYOC Morning Coffee Hour on Sunday, August 9, from 10:00-11:00 AM
To RSVP to Sisterhood, please click here.